Genstat 23 requires access to the Internet when you first activate your license: an HTTP connection is made to a web service on the vsni.co.uk domain to make the license activation request. A successful license activation will install a Reprise license file on your computer. The default license location is C:\Users\USERNAME\Documents\VSNi\enterprise_licenses.
Node-locked licenses
If you have a node-locked license type i.e. the license is locked to your computer rather than shared by other computers on a network, then no further Internet connections will be made (unless you activate an additional license). After license activation you can continue to use Genstat without an Internet connection.
Concurrent (floating) licenses
Where a concurrent license (a.k.a shared/network/floating license) has been installed then Genstat 23 will continue to make connection requests to the RLM Cloud license server on two ports on the domain rlmcloud.com. The port numbers used here can be found in the activation email sent by VSNi support when Genstat was purchased. After license activation you will need to maintain an Internet connection whenever you run the software, unless you take your license offline.
You can take a concurrent license offline for a period of up to 30 days. You then do not need an Internet connection to use Genstat, but the license will be unavailable for other users. 
Taking your license offline
Ensure that you are connected to the Internet.
From the menu select Help | Manage License.
Enter the number of days you wish to go offline for then click Go offline.
Your license will automatically come back online at the end of your specified offline period.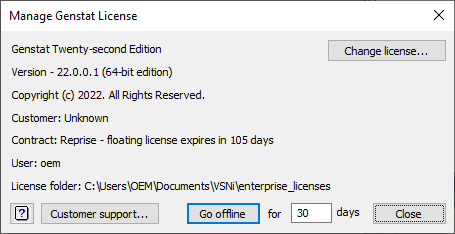 You can also put your license back online before the offline period ends.
To do this, follow the instructions above but click Go online.